About Executive Health Marbella
DETECT DISEASES BEFORE THEY CAUSE SYMPTOMS
Executive Health is the premier European Medical Preventive Screening business that has been in operation since 2008. Executive Health operates preventative screening clinics in Stockholm, Lund and Marbella. The concept and programmes are similar in all clinics, staffed by friendly and extremely dedicated Scandinavian professionals, who ensure each programme is carried out efficiently, yet in comfortable surroundings.
Our modern facility in Marbella offers access to a wider range of screening programmes and specialists. We also have a Cardiac Catheterisation Laboratory and two operating suites at our disposal.
Dr Reinhard is in charge of all screenings, appointments, treatments, and the overall communication with the clients and also collaborates with a large team of specialists. All of our imaging specialists have been carefully selected as expects in their respective field. Currently we use three radiologists, three cardiologists and two gastroenterologists for our imaging reports.
All of our screening doctors have a background in research, at PhD level or higher, as we consider this essential in order to carry out the standard of work required in the clinics. Dr Reinhard, has a medical degree in Denmark in preventive cardiology and risk prediction. He has done research in Australia at the renowned Cardiac institute Victor Chang, and has also worked as screening doctor in Denmark, Norway and Sweden. Today he only works in Spain.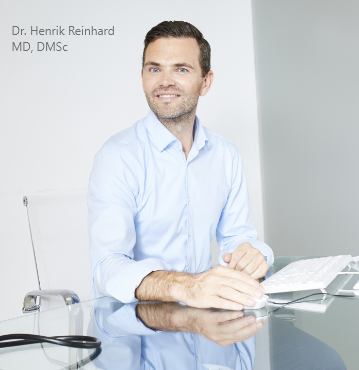 I am a strong believer in the importance of early detection, and I encourage everyone the be proactive about their health in general and their preventive screenings in particular.
We look forward to welcoming you at Executive Health